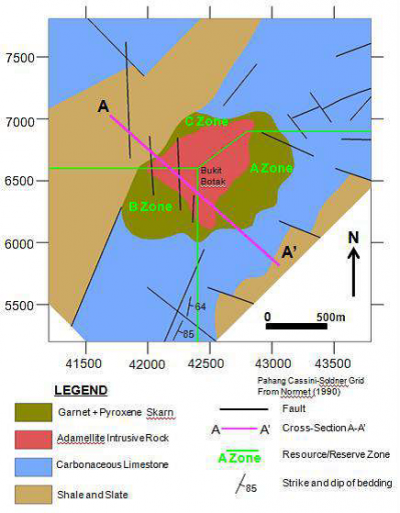 Mengapur area geology consists of a folded and faulted Paleozoic and Mesozoic sedimentary rock sequence dominated by carbonaceous limestone and shale and lesser volcanic and pyroclastic rocks. The sedimentary rocks generally strike northeast and dip moderately to steeply to the southeast. The sedimentary rocks in the region have been intruded by at least 3 phases of intrusive rocks ranging in age from Late Carboniferous/Early Permian to mid-Triassic. The Mengapur skarn alteration and related mineralization is believed to be associated with the Mid-Triassic Lepar Granodiorite phase of intrusion.
The Mengapur limestones have been intruded by an intrusive complex dominated mainly by adamellite (quartz monzonite). The intrusive complex forms the centre of the Mengapur district and forms a pronounced hill in the area. The adamellite consists of a coarse grained core and a finer grained outer chilled margin. The intrusive rocks strike approximately 60° to 65° at the surface and generally dip 60° to 65 degrees to the east-southeast.
Mengapur is centred on the Bukit Botak intrusive complex with pyrrhotite-bearing garnet + pyroxene skarn, and hornfels occurring mostly in the adjacent Permian sedimentary rocks at the intrusive rocks-sedimentary rock contact zone.
The Mengapur mineral deposit is a skarn type deposit. The Cu-S-Au-Ag mineralization is hosted in oxidised and fresh rock. Sulphide mineralogy is dominated by pyrrhotite with lesser arsenopyrite, pyrite, magnetite, chalcopyrite, and molybdenite. Oxide mineralization consists dominantly of hematite, clay, with traces of chalcocite, covellite, digenite, and/or native copper. The oxide mineralization almost always occurs at the surface and overlies the bedrock sulphide skarn mineralization.