Burnakura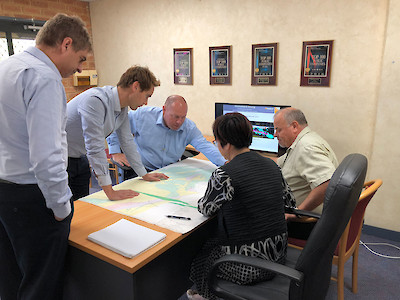 Early Stage Production Preparation Work
The Company intends to put the Burnakura Project into early stage production based on a positive internal economic study combined with a Front-End Engineering Design (FEED) prepared by Como Engineers pty ltd ("Como Engineers"). The internal economic study at Burnakura included an optimized life of mine for early stage production. This mining plan involves open pit production from extensions to the Alliance, New Alliance, North of Alliance (NOA1, 2, 4, 6 and 7/8), Federal City and Authaal deposits.
The Burnakura Gold Project is ready for construction and is now under review with underground potential. Off-site engineering design, refurbishment and procurement work were completed on long lead items including delivering the crushing circuit to Burnakura site ready for assembly and installation. Other mine development activities include: completion of a power strategy assessment, building the site power model, pit dewatering strategy assessment for early stage production, improved access road work program, and wet lab development. Camp accommodations and catering are fully functional in readiness for Company personnel and mining contractors to commence on site.
Geological study development work includes drill programs at Murchison with a view to increasing both surface oxide and underground fresh materials, and completion of the Heritage survey on Burnakura Mining Leases.
PEA study
The Company has commenced a Preliminary Economic Assessment Study ("PEA") on the Burnakura life of mine areas. The PEA is to further advance planned early stage potential production and aims to provide a long term economic scope of the project. In the PEA, the open pit mine optimization will be reworked with current cost and recovery assumptions and findings from the recently completed PEA geotechnical study conducted by Peter O'Bryan and Associates. In addition, the underground mining potential at NOA 7/8 will be included in the life of mine study work. Extended mine production areas potentially allows the existing CIL plant to be upgraded by adding a 500KTPA mill from the existing 260KTPA mill in replacement of a proposed heap leach facility to achieve much better reliability and higher performance of production. Also geological data compilation and metallurgical studies will be included in the PEA study.
SRK Consulting has been engaged as the Independent Qualified Person for the PEA study. The study will be completed mostly in-house by the Monument Mining technical team in Perth within the NI 43-101 technical report framework. Additional contract and consulting work includes:>Geotechnical studies by Peter O'Bryan and Associates (now complete), a 500 KTPA processing plant upgrade scoping study by COMO Engineers, Metallurgical study by Orway Mineral Consultants Pty Ltd, Open Pit Optimisation study by Deswik, Underground mining study and evaluation for NOA 7/8 by Pit N Portal Group–Underground Mining Contractors (now complete). The Company anticipates completing the PEA in Q1 2019.
Tuckanarra
Monument carried out verification drilling at the Cable, Bollard and Maybelle deposits at Tuckanarra in 2015. This program successfully verified the historical drilling and provides confidence in the historical resource estimate. Monument is now working towards re-modelling and converting the historical resource in accordance with NI43-101 standards. Once the model is updated, Monument will re-assess open pit potential which currently stands at 25koz within optimized pits. A targeting review at Tuckanarra highlighted that there is good potential for resource extensions beneath all historical mined pits. In addition, several high grade shallow historical underground workings remain untested at depth.