Burnakura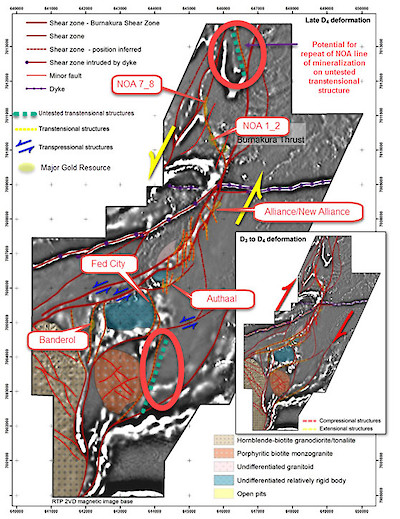 Monument has identified significant regional exploration upside at the Burnakura project through identification of several prospective untested shear structures. These untested structures are in a similar geological setting to the already established mineralisation trends, and therefore present good potential to host a new discovery. The Burnakura mineral field is a highly fertile gold district with no significant greenfields exploration drilling in the last 20 years. The Burnakura project tenements have on average only been drilled down to 100 metres and all deposits are open at depth.
Three drilling programs commenced at Burnakura in May 2018 to potentially increase the gold resources in both near surface oxide and underground fresh materials.
NOA 7/8 Deep Exploration Program
Geological study work completed at NOA7_8 highlighted that the deposit is open at depth and plunging to the north. Nine deep holes are planned to extend the high grade northerly plunge of the mineralization and two diamond holes will be drilled for metallurgical test work. (See "NOA 7/8 Long section" figure).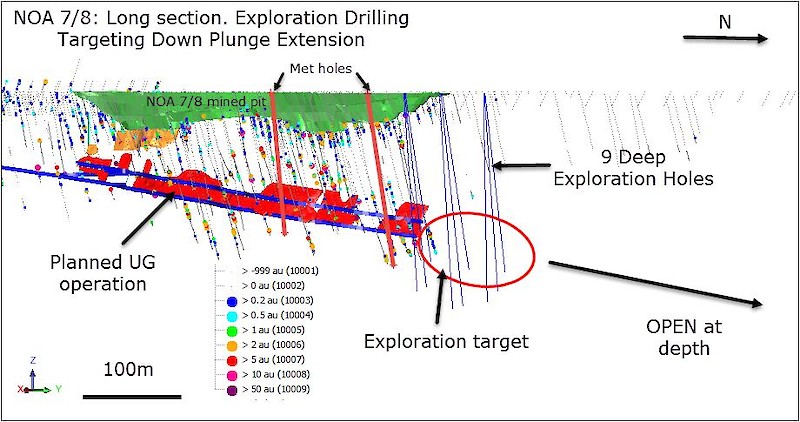 Burnakura Shallow Oxide Program
The Burnakura shallow oxide drill program consist of sixty-six drill holes and is targeting high grade shallow oxide pit material. The planned drilling targets previously identified gold occurrences typically within 20m from the surface on the Burnakura leases, and the new tight space drilling can potentially extend these high grade occurrences. (See an example in the "Lewis West- Plan View" figure).
Burnakura Deeper Pit Program
The Burnakura deeper pit program consists of three drill holes at depth at three pits: Alliance and New Alliance, Authaal and Banderol. This program aims to extend mineralization under previously operated pits. (See "Alliance and New Alliance: Section View Looking North" figure).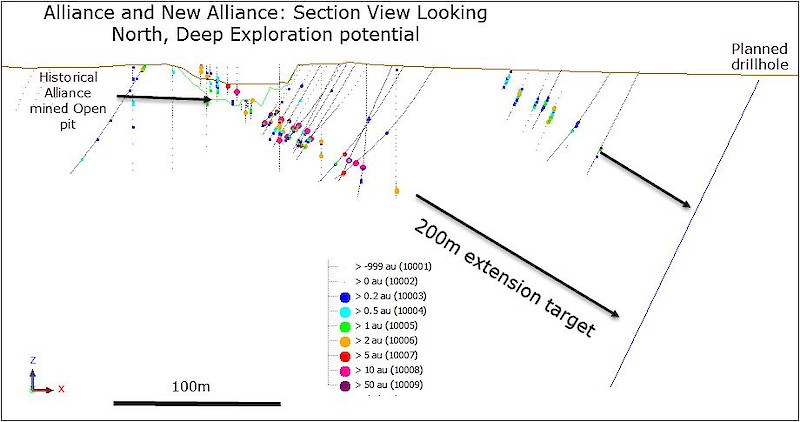 Gabanintha
Drilling has been planned at Yagahong North, Golden Hope North and Kavanagh prospects, but has been delayed due to heritage reasons. Several favorable EM anomalies have been identified as targets which represent further potential for copper/gold resources. A detailed review of the current resource model is ongoing with a focus to convert the historical resources to current resources.
The majority of drilling at Gabanintha has only tested down to a depth of 100m. There is little drilling that has been carried out below the current pits and Monument anticipate this would increase the estimated resource once drilled.
Yagahong North Prospect
Significant drill results were returned from the historical Kentor Gold 2012 drilling program. The prospect is located north of the existing Yagahong Pit and is within trucking distance to Burnakura plant. The drilling has returned copper and gold results beneath and laterally to the existing pits. This Figure below shows the drilling intercepts.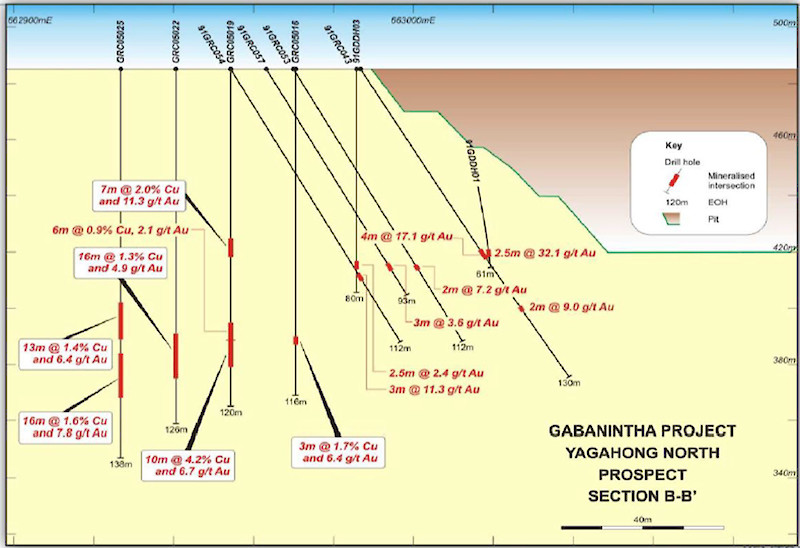 Tuckanarra
At Tuckanarra a number of opportunities have been outlined by Monument which includes exploration targets and potential resource extensions that warrant additional drilling. Details include:
Historically, exploration drilling focus has been on extending laterite and shallow oxide mineralisation (60-80m vertical depth). Potential exists at Cable, Bollard and Maybelle North for additional along strike and down dip mineralisation below current drilling and is open at depth.
Cable East is open along strike to the south and down dip along most of the strike length and has potential for resource extensions with further drilling;
Potential for in-situ higher grade mineralisation at depth beneath and adjacent to Drogue and Anchor laterites;
Mineralised drill intercepts beneath the Bollard open pit around 30-40m vertical depth are open along strike to the north and south and require further drilling to define the extents;
Isolated mineralised drill intersections of >1g/t exist outside the current defined resource areas requiring further drilling.