Burnakura
The majority of the Burnakura Property area covers Archaean basement rocks assigned to the 2814-2800 Ma basal Norie Group of the Murchison Supergroup covering the eastern margin of the Meekatharra-Wydgee greenstone belt. The Norrie group comprises; a thick succession of pillowed and massive tholeiitic basalts of the Murrouli Basalt; and conformably overlying felsic volcaniclastics with interbedded BIF and felsic volcanic rocks of the Yaloginda Formation.
The Burnakura gold deposits are situated along a northeast trending splay (Burnakura Shear Zone) that parallels and is linked to the north-northeast trending regional scale Mt Magnet fault. The Mt Magnet fault is the major east bounding structure to the "Meekatharra structural zone", a major regional, northeast-trending shear dominated zone, about 50 to 60 km wide, incorporating the Meekatharra area and extending through the Cue region as far south as Mount Magnet (Spaggiari, 2006). The Meekatharra structural zone is dominated by north- and northeast-trending folds and shears, including refolded folds with approximately coplanar fold axes. Many of the folds are truncated by shears or faults, and the structural zone is interpreted as a major zone of shear-related deformation.
Gabanintha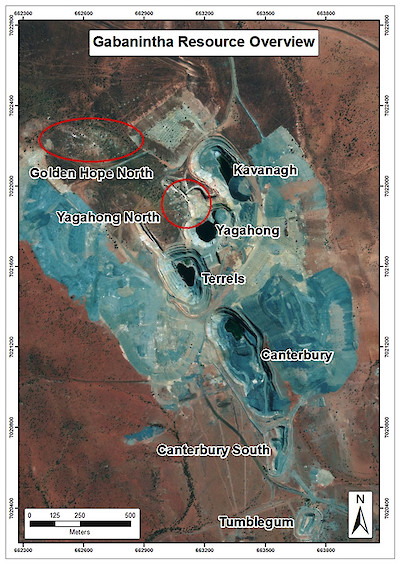 The Gabanintha property rock types consist of tholeiitic and komatiitic mafic and ultramafic volcanic and intrusive of the Gabanintha Formation. It is bound to the east by older granites and to the west by BIF and epiclastics of the Windaning Formation. Further west these rocks are unconformably overlain by felsic to andesitic volcanic and sediments of the Mount Farmer Group. A granitoid has intruded the greenstone sequence to the east and southeast of Gabanintha.
A northwest trending transcurrent shear zone, known as the Gabanintha Shear Zone, is the dominant structural trend in the area extending approximately 1km in width. It has intensive shear fabrics and extensive linear quartz veins. The contact with the granitoids and greenstones has also produced shear zones within the greater shear envelope. The gold mineralization has formed along parallel and sub parallel structures within the shear envelope. There is a northeast structural control on the mineralization with north-northwest en-echelon ore shoots aligned along the north axis and seen in the Terrels, Kavanagh and Yagahong open pits.
Tuckanarra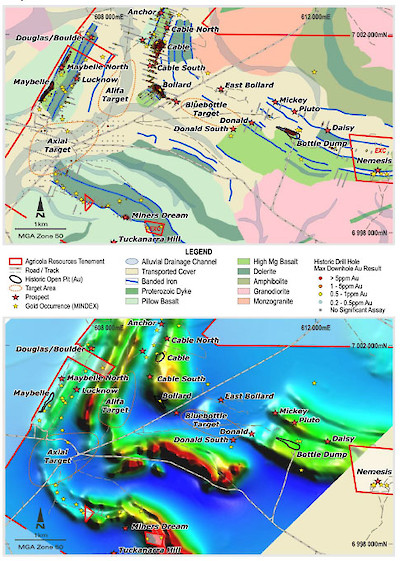 The Tuckanarra greenstone belt comprises a series of mafic and inter-banded mafic and ironstone ("BIF") formations, with a variable component of clastic sediments which includes greywackes and minor shales. The sequence is folded into a south‐westerly plunging anticline with a well-developed axial planar cleavage and numerous fractures, bedding-parallel faults, and shears. The belt extends northwards to Stake Well and east to the Reedys mining centre.