Quick Facts
| | |
| --- | --- |
| Location | Murchison Area, Western Australia, 765km Northeast of Perth |
| Murchison Area Properties | 230.2 km2 |
| Ownership | 100% |
| Mine Type | Open Pits/Underground |
| Deposit Type | Gold |
| Plant Capacity | 260,000 tpa* |
| NI 43-101-Indicated Resources | 293 Koz |
| NI 43-101-Inferred Resources | 88 Koz |
| Historical Resources** | 644 Koz |
*tpa-tonnes per annum **Historical Resources at time of acquisitions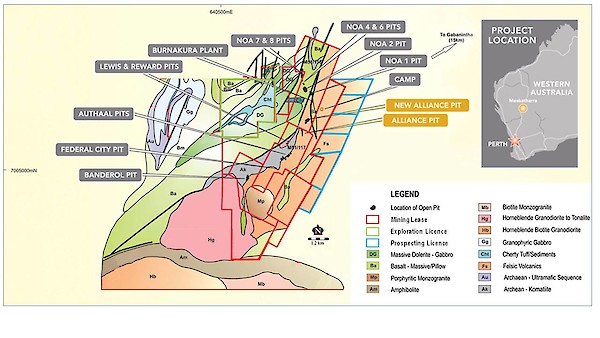 Overview
The Murchison Gold Portfolio includes the Burnakura property ("Burnakura"), Gabanintha property ("Gabanintha") and Tuckanarra property ("Tuckanarra").
The Burnakura and Gabanintha properties are 40km southeast of Meekatharra and 765km northeast of Perth. Tuckanarra is located 750km northeast of Perth and straddles the Great Northern Highway to the south of Meekatharra, and southwest of Burnakura.
The Burnakura property was acquired in February 2014 including a fully operational 260KTPA gold processing plant, 118 man mine camp, and associated infrastructure buildings. The Burnakura property comprises six granted mining leases; five granted prospecting licences and three granted exploration licences. Since acquisition the Company has undertaken exploration and confirmation drilling programs, infrastructure improvements, and extensive mine planning work for the preparation of the early stage of production. The Burnakura Property has Indicated Resources of 293Koz and Inferred Resources of 88K0z as reported in the NI43-101 Mineral Resource (SRK Consulting-Updated Mineral Resources, Burnakura Gold Project, Western Australia, Australia NI43-101 Technical Report, dated July 17, 2018).
The Gabanintha property was also acquired in February 2014 along with the Burnakura property and infrastructure. Gabanintha has a historical resource of 153koz, and is within trucking distance to the Burnakura plant. The Gabanintha package consists of two mining leases, three exploration licences, and eighteen prospecting licences.
The Tuckanarra property was purchased in November 2014 as a strategic move to consolidate a large land position in the prospective Murchison historic gold producing region in Western Australia. Tuckanarra consists of two exploration licenses, six prospecting licenses and a mining lease. The property contains approximately 80,000 historical Indicated and Inferred JORC compliant ounces of gold. Tuckanarra is within trucking distance to the Burnakura mill facility.