Monument Announces Significant Intercepts Assay Results at Buffalo Reef/Felda
Vancouver, B.C., April 11, 2016, Monument Mining Limited (TSX-V: MMY and FSE: D7Q1) "Monument" or the "Company" is pleased to announce that significant intercepts assay results have been received for the Buffalo Reef Central ("BRC") and Felda Land ("Felda") deposits at Selinsing Gold Mine driving by Monument fiscal 2016 exploration programs ("FY2016 Exploration"). The FY2016 Exploration includes definition and extensional drilling and associated metallurgical test work to update resource statement that may potentially increase the life of mine for another five years. In parallel sulphide ore treatment test work, mine optimization and economic study are progressing towards completion of an updated NI43-101 technical report.

Highlight of the best intercepts and exploration progress at BRC and Felda

| HOLE ID | From(m) | To (m) | Au g/t | Interval Length /Grade |
| --- | --- | --- | --- | --- |
| MBRDD454 | 98.55 | 117.25 | 5.82 | 18.70m @ 5.82g/t |
| MBRDD458 | 135.3 | 141.3 | 5.03 | 6.00m @ 5.03g/t |
| MBRDD458 | 215.3 | 224 | 9.54 | 8.70m @ 9.54g/t |
| MBRDD463 | 174.2 | 177.4 | 6.13 | 3.20m @ 6.13g/t |
| MBRDD470 | 147.1 | 160.5 | 5.22 | 13.40m @ 5.22g/t |
| MBRDD493 | 62.3 | 67 | 13.77 | 4.70m @ 13.77g/t |
| MBRDD493 | 123.8 | 141.1 | 5.45 | 17.3m @ 5.45g/t |

FY2016 Exploration at BRC and Felda deposits included 71 exploration holes for 3,548 meters RC drilling and 5,964 meters DD drilling, plus 19 holes for 1,797 meters of metallurgical drilling (Figure 1"Drill hole Location Plan for composited assays greater than 1.0g/t"). 10,582 assay results have been received, confirming the good continuity of the known mineralization envelopes and their extensions down-dip. A follow-up drilling program to extend resources is being planned to follow after the completion of an ongoing metallurgical drilling program.

Table 1 "Significant Drill Intercepts > 1.0g/t – DD holes" is attached to this News Release, showing a breakdown of fire assay best intercept results completed by SGS Lab for intervals of mineralization greater than 1.0 g/t Au along with collar information for the DD drill holes, in both local mine grid and national MRSO grid system. The majority of the infill and extensional drilling was angled at 60° towards the local mine grid west, and has confirmed the existing oxide and sulphide mineralized zones and also intersected a number of down-dip quartz stibnite high grade intervals, beyond the currently defined shallower, quartz-ankerite mineralization.

Figure 1 - Drill hole Location Plan for composited assays greater than 1.0g/t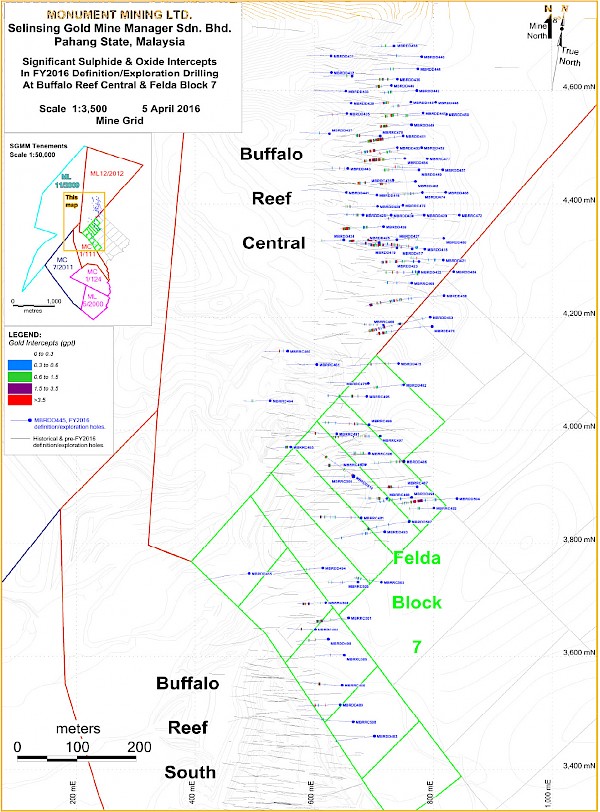 The Table 2 in this news release shows the collar coordinates of highlighted exploration HQ diameter DD (prefix MBRDD) and RC (prefix MBRRC) in corresponding intercepts listed in the Table 1.

FY2016 drill holes, including the mineralized assay results greater than 1.0g/t Au at BRC/Felda highlighted at Figure 1 above, together with holes prior to FY2016, are all being used in the ongoing Resource estimation. The drill hole orientation for exploration drilling was designed to target perpendicular to mineralization for true thickness. The drill hole intercepts reported in this statement represent composited sample intervals obtained from drilling.

Exploration Focus at Gold Portfolio in Malaysia

The following Figure 2 shows a regional geology map and gold mining context for the central gold belt surrounding Selinsing Gold Mine area in Pahang State, Malaysia.
Figure 2. Central Gold Belt of Malaysia and locations of Selinsing, Buffalo Reef and other significant mines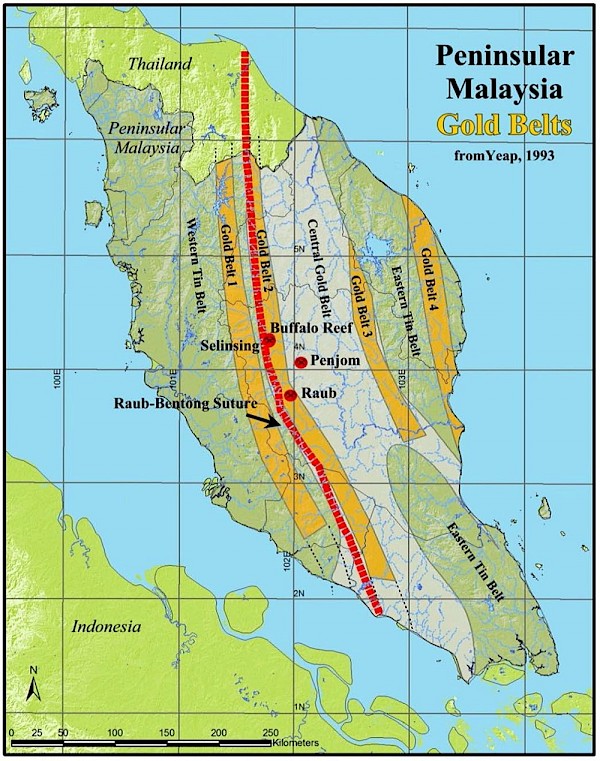 The Company's exploration focus is to substantially replace gold inventory in the surrounding areas of the Selinsing Gold Mine in order to extend the economically recoverable life of mine to support sustainable production for another 5 years.

Previous exploration through 2013 to 2015 has provided better understanding of the geology, lithologies, structural, hydrothermal alteration and weathering controls on the mineralization of the properties in the Selinsing Gold Mine area, which supported and will continue to support together with FY2016 exploration identification of extensions of the known mineralization and new occurrences hosted in the same major, north south structure.

The fiscal 2016 drilling and geological program includes exploration and extensional drilling, resource definition drilling, and infill drilling for improving the confidence in the continuity of the (high) grade intercepts and the knowledge of the geometry of the mineralized bodies, resulting in promotion of Inferred to Indicated Resource categories, and from Indicated to Measured Resource categories. The drilling has also been conducted aiming to collect samples for metallurgical test work, specifically for ongoing sulphide gold recovery test work.

Buffalo Reef exploration is the current focus and is concentrated in BRC and Felda areas. Drilling was generally orientated east-west, with drill spacing of 40m by 40m infilled to 20m by 20m. The results have been highly encouraging so far; continuing to investigate extensions of the same type of mineralization along the strike structure and down-dip is planned.

The priority for the next few years' exploration will be primarily carried out at the Company owned property/tenements due to existing good geological, structural and mineralization controls; and metallurgical, mining knowledge that has already been accumulated. All together this will increase the possibility of finding new discoveries quicker, and with a higher likelihood of success.

As additional promising targets are: (i) the down-dip and East extension of Felda and BRC, where there is a good chance of continuing to intercept high grade stibnite sulphide mineralization, and; (ii) Buffalo Reef South (BRS) extension to southeast and east (towards Felda), given the higher average grade of this deposit in comparison with BRC, Felda and Buffalo Reef North (BRN), possible south extension of same structure occurring in Felda and BRC, and potential to find additional Oxide Resources.

The incorporation of geometallurgical aspects to the database will guide Monument's drill programs towards potential future mining and gold production.

Buffalo Reef Gap (BRG) is a green field prospect located in the main structure between BRC and BRN, leading to an expectation of finding new mineralization envelopes. Bukit Ribu and Peranghi are targets also hosted in the same major North-South structure, with artisanal mining activities for Peranghi in the past, among other evidences of mineralization from Monument's own drilling. Those areas represent further long term exploration potential.

Follow up of Remaining FY2016 Exploration Programs

The remaining FY2016 exploration plan is to complete the ongoing metallurgical drilling (Hallide leach – Pilot Plant test work sulphide sampling) and resource definition drilling in BRC and Felda areas, and extend exploration drilling in Felda Land.

The drilling data have been validated for geology analysis, grade shell interpretation and ongoing resource modelling. It was observed that the medium to high grades are in a good part associated to higher intensity of quartz vein zones, however many vein zones are actually barren rocks. The mineralization shows predominantly a tabular shape concordant with the regional shearing structuring, getting thicker and more rounded in depth, in the high grade stibnite sulphide occurrences. Infill and extensional drilling has been successful in confirming a good continuity of these bodies in a section or from one section to another, increasing the reliability of the interpretation.

Roger Stangler, Chief Managing Geologist of the Company, MEng, MAusIMM, MAIG, has prepared, reviewed, supervised the preparation and approved the scientific and technical disclosure in the news release as a Qualified Person under NI43-101 standards.

About Monument

Monument Mining Limited (TSX-V:MMY, FSE:D7Q1) is an established Canadian gold producer that owns and operates the Selinsing Gold Mine in Malaysia. Its experienced management team is committed to growth and is advancing several exploration and development projects including the Mengapur Polymetallic Project, in Pahang State of Malaysia, and the Murchison Gold Projects comprising Burnakura, Gabanintha and Tuckanarra in the Murchison area of Western Australia. The Company employs approximately 300 people in both regions and is committed to the highest standards of environmental management, social responsibility, and health and safety for its employees and neighboring communities.
Robert F. Baldock, President and CEO
Monument Mining Limited
Suite 1580 -1100 Melville Street
Vancouver, BC V6E 4A6



FOR FURTHER INFORMATION visit the company web site at www.monumentmining.com or contact:

Richard Cushing, MMY Vancouver T: +1-604-638-1661 x102 rcushing@monumentmining.com
Wolfgang Seybold, Axino GmbH T: +49 711-82-09-7211 wolfgang.seybold@axino.com


"Neither TSX Venture Exchange nor its Regulation Services Provider (as that term is defined in the policies of the TSX Venture Exchange) accepts responsibility for the adequacy or accuracy of this release."

Forward-Looking Statement

This news release includes statements containing forward-looking information about Monument, its business and future plans ("forward-looking statements"). Forward-looking statements are statements that involve expectations, plans, objectives or future events that are not historical facts and include the Company's plans with respect to its mineral projects and the timing and results of proposed programs and events referred to in this news release. Generally, forward-looking information can be identified by the use of forward-looking terminology such as "plans", "expects" or "does not expect", "is expected", "budget", "scheduled", "estimates", "forecasts", "intends", "anticipates" or "does not anticipate", or "believes", or variations of such words and phrases or state that certain actions, events or results "may", "could", "would", "might" or "will be taken", "occur" or "be achieved". The forward-looking statements in this news release are subject to various risks, uncertainties and other factors that could cause actual results or achievements to differ materially from those expressed or implied by the forward-looking statements. These risks and certain other factors include, without limitation: risks related to general business, economic, competitive, geopolitical and social uncertainties; uncertainties regarding the results of current exploration activities; uncertainties in the progress and timing of development activities; foreign operations risks; other risks inherent in the mining industry and other risks described in the management discussion and analysis of the Company and the technical reports on the Company's projects, all of which are available under the profile of the Company on SEDAR at www.sedar.com. Material factors and assumptions used to develop forward-looking statements in this news release include: expectations regarding the estimated cash cost per ounce of gold production and the estimated cash flows which may be generated from the operations, general economic factors and other factors that may be beyond the control of Monument; assumptions and expectations regarding the results of exploration on the Company's projects; assumptions regarding the future price of gold of other minerals; the timing and amount of estimated future production; the expected timing and results of development and exploration activities; costs of future activities; capital and operating expenditures; success of exploration activities; mining or processing issues; exchange rates; and all of the factors and assumptions described in the management discussion and analysis of the Company and the technical reports on the Company's projects, all of which are available under the profile of the Company on SEDAR at www.sedar.com. Although the Company has attempted to identify important factors that could cause actual results to differ materially from those contained in forward-looking statements, there may be other factors that cause results not to be as anticipated, estimated or intended. There can be no assurance that such statements will prove to be accurate, as actual results and future events could differ materially from those anticipated in such statements. Accordingly, readers should not place undue reliance on forward-looking statements. The Company does not undertake to update any forward-looking statements, except in accordance with applicable securities laws.


MONUMENT MINING LIMITED
Table 1: Significant Drill Intercepts > 1.0g/t - DD holes

No.
Hole ID
Hole Type
*Intercept
Width (m)
Intercept
Grade Au
(g/t)
Intercept
Description
Mineralization
Type
From (m)
To (m)
End Of
Hole
Depth (m)
1
MBRDD445
DD
14.85
1.58
14.85m @ 1.58 g/t
Sulfide
79.80
94.65
130.40
2
MBRDD446
DD
8.20
2.60
8.20m @ 2.60 g/t
Oxide
39.80
48.00
110.30
3
MBRDD447
DD
12.10
1.21
12.10m @ 1.21 g/t
Sulfide
99.80
111.90
141.80
4.75
1.45
4.75m @ 1.45 g/t
Sulfide
125.05
129.80
4
MBRDD449
DD
16.50
2.53
16.50m @ 2.53 g/t
Sulfide
90.80
107.30
120.80
7.50
1.67
7.50m @ 1.67 g/t
Sulfide
111.80
119.30
5
MBRDD451
DD
36.60
2.56
36.60m @ 2.56 g/t
Sulfide
73.70
110.30
158.30
15.00
2.74
15.00m @ 2.74 g/t
Sulfide
113.30
128.30
6
MBRDD453
DD
8.70
2.90
8.70m @ 2.90 g/t
Sulfide
81.10
89.80
152.30
7.30
1.74
7.30m @ 1.74 g/t
Sulfide
96.80
104.10
5.15
1.94
5.15m @ 1.94 g/t
Sulfide
108.10
113.25
7
MBRDD454
DD
10.40
1.31
10.40m @ 1.31 g/t
Sulfide
73.80
84.20
154.10
8.90
2.33
8.90m @ 2.33 g/t
Sulfide
87.80
96.70
18.70
5.82
18.70m @ 5.82 g/t
Sulfide
98.55
117.25
6.50
3.38
6.50m @ 3.38 g/t
Sulfide
120.80
127.30
5.25
2.90
5.25m @ 2.90 g/t
Sulfide
139.10
144.35
8
MBRDD458
DD
6.00
5.03
6.00m @ 5.03 g/t
Sulfide
135.30
141.30
234.80
4.50
1.24
4.50m @ 1.24 g/t
Sulfide
144.80
149.30
7.50
1.50
7.50m @ 1.50 g/t
Sulfide
161.30
168.80
8.70
9.54
8.70m @ 9.54 g/t
Sulfide
215.30
224.00
9
MBRDD459
DD
3.85
1.32
3.85m @ 1.32 g/t
Sulfide
106.45
110.30
131.30
10
MBRDD462
DD
11.80
1.71
11.80m @ 1.71 g/t
Sulfide
113.50
125.30
155.80
11
MBRDD463
DD
11.00
2.01
11.00m @ 2.01 g/t
Sulfide
100.80
111.80
207.80
6.50
4.75
6.50m @ 4.75 g/t
Sulfide
149.50
156.00
3.70
1.75
3.70m @ 1.75 g/t
Sulfide
164.60
168.30
3.20
6.13
3.20m @ 6.13 g/t
Sulfide
174.20
177.40
16.12
1.77
16.12m @ 1.77 g/t
Sulfide
179.60
195.72
12
MBRDD470
DD
13.40
5.22
13.40m @ 5.22 g/t
Sulfide
147.10
160.50
179.30
5.10
3.26
5.10m @ 3.26 g/t
Sulfide
166.30
171.40
13
MBRDD474
DD
5.10
3.06
5.10m @ 3.06 g/t
Sulfide
125.05
130.15
152.10
14
MBRDD486
DD
4.50
1.11
4.50m @ 1.11 g/t
Oxide
14.00
18.50
188.30
3.00
1.02
3.00m @ 1.02 g/t
Oxide
27.50
30.50
9.40
1.99
9.40m @ 1.99 g/t
Sulfide
136.90
146.30
7.00
1.76
7.00m @ 1.76 g/t
Sulfide
167.30
174.30
15
MBRDD489
DD
3.90
3.56
3.90m @ 3.56 g/t
Sulfide
83.30
87.20
138.70
16
MBRDD493
DD
4.70
13.77
4.70m @ 13.77 g/t
Sulfide
62.30
67.00
171.30
17
MBRDD499
DD
3.00
1.90
3.00m @ 1.90 g/t
Oxide
39.80
42.80
103.80
4.20
1.57
4.20m @ 1.57 g/t
Sulfide
60.20
64.40
18
MBRDD504
DD
17.30
5.45
17.30m @ 5.45 g/t
Sulfide
123.80
141.10
201.60
8.60
3.44
8.60m @ 3.44 g/t
Sulfide
145.60
154.20
4.95
1.46
4.95m @ 1.46 g/t
Sulfide
157.87
162.82
19
MBRDD507
DD
6.00
3.76
6.00m @ 3.76 g/t
Sulfide
128.30
134.30
146.60
20
MBRDD510
DD
3.30
1.17
3.30m @ 1.17 g/t
Oxide
42.50
45.80
150.00
7.50
1.78
7.50m @ 1.78 g/t
Sulfide
123.40
130.90


Note:
* Intercepts widths represent approximate true mineralization widths.
** Intercepts stated are all included in the database used for the NI43-101 new Resource Model.

| | |
| --- | --- |
| LEGEND: | Gold (Au) |
| | 1.0 to 3.0 g/t |
| | 3.0 to 5.0 g/t |
| | 5.0 to 10.0 g/t |
| | 10.0 to 13.77 g/t |

| | |
| --- | --- |
| SELECTION PARAMETERS: | |
| Bottom cut (g/t) | 1.00 |
| Minimum Interval Length (m) | 3.00 |
| Maximum Internal Dilution (m) | 1.50 |
MONUMENT MINING LIMITED
Table 2: Significant Drill Intercepts: Collar coordinates in local mine grid & national grid

No.
Hole
ID
Hole
Type
Collar coordinates in local mine grid & national grid
Dip
Mine
Azimuth
MRSO
Azimuth
Mine
East
Mine
North
Mine
RL
MRSO
East
MRSO
North
MRSO
RL
1
MBRDD445
DD
762.46
4,579.68
491.25
421,289.14
472,630.12
99.44
-60.0
269.9
261.9
2
MBRDD446
DD
729.83
4,609.00
498.01
421,252.73
472,654.58
106.20
-61.0
264.6
256.6
3
MBRDD447
DD
783.13
4,560.53
494.06
421,312.28
472,614.05
102.25
-62.0
264.7
256.7
4
MBRDD449
DD
763.61
4,540.05
496.04
421,295.82
472,591.04
104.23
-62.0
267.8
259.8
5
MBRDD451
DD
749.67
4,520.12
499.57
421,284.80
472,569.36
107.76
-63.0
262.1
254.1
6
MBRDD453
DD
739.72
4,499.61
504.96
421,277.82
472,547.66
113.15
-62.0
261.0
253.0
7
MBRDD454
DD
752.55
4,480.41
505.12
421,293.21
472,530.44
113.31
-61.0
266.4
258.4
8
MBRDD458
DD
818.31
4,238.16
492.98
421,392.21
472,299.77
101.17
-60.0
266.3
258.3
9
MBRDD459
DD
776.06
4,459.60
503.34
421,319.40
472,513.13
111.53
-61.0
269.8
261.8
10
MBRDD462
DD
770.24
4,439.58
505.06
421,316.44
472,492.48
113.25
-62.0
266.2
258.2
11
MBRDD463
DD
795.09
4,200.09
498.52
421,374.54
472,258.83
106.71
-60.0
255.5
247.5
12
MBRDD470
DD
798.22
4,182.60
500.14
421,380.09
472,241.95
108.33
-62.0
265.0
257.0
13
MBRDD474
DD
781.85
4,419.95
503.69
421,330.68
472,474.67
111.88
-62.0
269.4
261.4
14
MBRDD486
DD
751.22
3,944.96
500.80
421,366.79
472,000.07
108.99
-62.0
267.3
259.3
15
MBRDD489
DD
643.80
3,514.72
499.54
421,320.60
471,559.04
107.73
-61.0
268.7
260.7
16
MBRDD493
DD
718.79
3,820.39
507.88
421,352.10
471,872.19
116.07
-63.0
265.2
257.2
17
MBRDD499
DD
623.81
3,629.94
516.22
421,284.69
471,670.33
124.41
-58.0
265.6
257.6
18
MBRDD504
DD
840.03
3,878.81
495.87
421,463.97
471,946.99
104.06
-64.0
265.8
257.8
19
MBRDD507
DD
759.66
3,838.18
500.55
421,390.08
471,895.52
108.74
-59.0
259.4
251.4
20
MBRDD510
DD
666.58
3,919.32
527.35
421,286.57
471,962.85
135.54
-63.0
304.6
296.6