The Selinsing Gold processing plant conversion includes adding a flotation and a BIOX® leaching circuit (Selinsing Sulphide Gold Project") based on the 2019 feasibility study.
2019 Feasibility Study
The 2019 feasibility study (or "FS") includes the Selinsing deposit and the adjacent Felda and Buffalo Reef deposits. It established the economic viability of the project for a six year mine life through the extension of the existing oxide plant to incorporate additional sulphide ore extraction. The economic viability of the project described in the FS is primarily driven by adding the flotation and BIOX® processes to the current Selinsing gold processing Plant to treat sulphide ore.
Sulphide Processing Plant Conversion
The Sulphide Processing plant conversion includes plant expansion by adding a flotation plant, a BIOX® plant, other upgrades to the existing facilities, new power lines and mining development such as river diversion, expansion of tailing storage facilities and wall push backs at the current open pits. The BIOX® Process is a patented technology for pre-treatment of sulphide-based refractory ores and concentrates ahead of a conventional cyanide leach for gold recovery.
Inferred Resource Potential Opportunity
The opportunity to include Inferred Resources totaling 150koz was also discussed in the FS. The Inferred Mineral Resource inside the Reserve open pit designs potentially contains an additional 20koz of gold. The Inferred Mineral Resource external to the open pit design contains 130koz of gold. Further exploration programs could be initiated to target the conversion of Inferred Mineral Resources to Indicated Mineral Resources. The Selinsing Gold Mine has a proven record in converting oxide Inferred Mineral Resources to recovered ounces.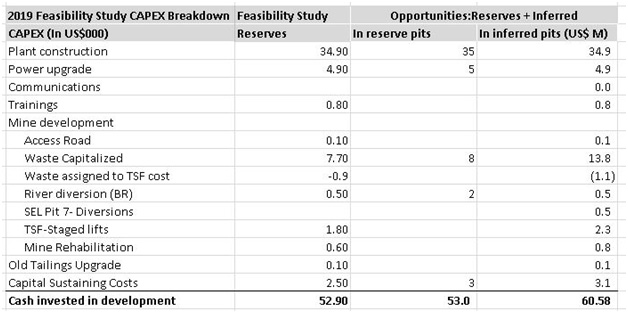 The diagram below shows conceptual flotation and BIOX® circuits added to the gold recovery process.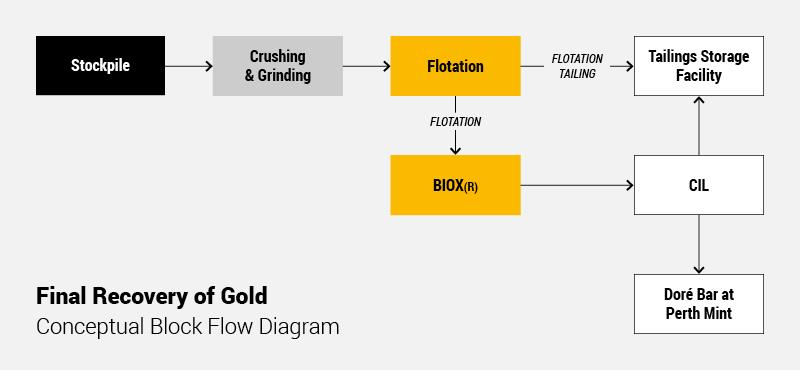 Selinsing Sulphide Project Construction Strategy
In order to reduce the initial capital investment, the Company plans to develop the Selinsing Sulphide Project through a two stage de-risking process: Stage 1 construction of a flotation plant that was orignally designed to deliver sulphide gold concentrates as a semi product for further biox-leaching process. Under the new approach, the flotation plant will be modified to produce higher grade saleble gold concentrates, the cash generated from which can be used to fund construction of the BIOX® leaching plant.
The stage 1 construction is expected to be completed by December 2022 with a capital expenditure of up to $20 million.
The stage 2 construction of the BIOX® leaching plant is pending success of developing a niche market that may supply suitable sulphide gold concentrates to be toll treated through the Selinsing sulphide treatment plant, therefore underpin sustainable long term cash flow to the Company. The expected construction timeframe for stage 2 is 12 months.
The expanded plant can be converted back to process oxide ore at any time from the sulphide processing plant.